Mr. and Mrs. Darrin Michael Silliman, who live in Cuyahoga Falls, Ohio.


The newlyweds with Darrin's sister Jill Kasler, brother Neil, and Mom, Pam Allen Silliman.


Pam Allen Silliman,Gretchen Allen (age 84), &
Penny Allen Nelson (who flew in from Spokane, Washington).


Pam with two of her three grandchildren, Stacey Kasler & Bryan Silliman.

Neil & Mindy Silliman parents of Bryant and expecting #2 child,who live in Wadsworth, Ohio.


Roger & Jill Kasler, parents of Stacey & Seth, who live in Carrolton, Ohio.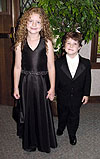 Stacy and Seth Kasler, children of Jill Silliman Kasler.


Gretchen Hermann Allen, sitting between her brother Howard Hermann & his wife, Helen. Gretchen lives in Stow, Ohio, and Howard & Helen live in Cuyahoga Falls, Ohio.

Daniel Hermann & his wife Edna, who live in both Tallmadge, Ohio, and Surprise, Arizona.

Edna Hermann with Olga Hermann Burke, who lives in Doylestown, Ohio.


Tim (son of Howard & Helen)with wife, Becky, and daughter, Abby.


Sean & Amanda (Hermann) Lorenz, who live in Munroe Falls, Ohio.


Matilda Hermann with fiance, Patrick McKelvey.


3 Generations... Helen Hermann, Laurie Hermann Eisle, & her daughter, DeAnn.


Mother - Daughter... Laurie & DeAnn Eisle, who live in Akron, Ohio.
---
Go to NEXT PICTURE PAGE.
---